Here's Why Ariana Grande & Pete Davidson Skipped Out On The Emmys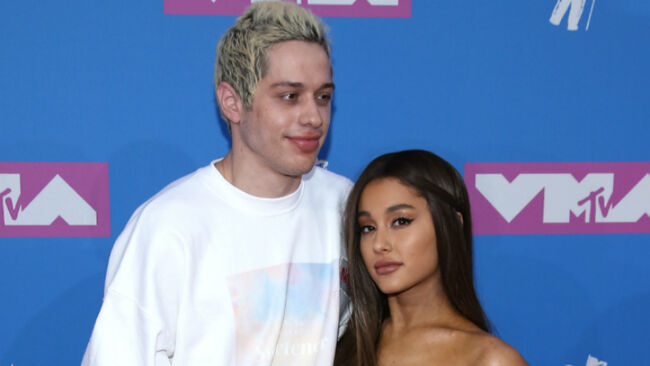 Ariana Grande is taking some much need time to heal. While the "sweetener" singer was scheduled to attend the 2018 Emmy Awards (she was on the preliminary seating chart), she and her fiance made the decision to stay home in New York City rather than attend the LA-based award show.
"Contrary to reports, Ariana will not be attending the Emmys tonight," her team told People on Monday (September 17). "Pete has also opted to not attend to be with her in New York."
As fans know, Ariana and Pete's decision to skip out on the show comes less than two weeks after the death of the 25-year-old singer's ex-boyfriend, Mac Miller. The 26-year-old rapper was found dead of an apparent overdose on September 7. In addition to coping with Mac's death, Ariana is still working through the trauma caused by a terrorist attack at her Dangerous Woman Tour in Machester in May 2017. A suicide bomber killed 22 people and injured more than 500 at her show, which the "breathin" singer recently admitted has caused her to have both anxiety and post-traumatic stress disorder.
"Given the events of the past couple of years, Ariana is going to take some much needed time to heal and mend," her team told the mag. "She will be staying close to home and using this period to spend time with her loved ones and work on new music without deadline. She thanks her fans for their understanding."
Ariana Grande spoke out for the first time since Mac's passing on Friday (September 14). The "no tears left to cry" singer shared a touching and emotional tribute to her ex-boyfriend, who she called her "dearest friend."
"I adored you from the day i met you when i was nineteen and i always will," she captioned a video she'd shot of Mac when they were dating. "Can't believe you aren't here anymore. i really can't wrap my head around it."
"We talked about this. so many times," she added. "I'm so mad, i'm so sad i don't know what to do. you were my dearest friend. for so long. above anything else. i'm so sorry i couldn't fix or take your pain away. i really wanted to. the kindest, sweetest soul with demons he never deserved. i hope you're okay now. rest."
Immediately following news of Mac's death, Ariana was forced to shut off her Instagram comments after trolls blamed her for his suspected overdose.
Photo: Getty Images